When it comes to search engine optimization (SEO), two names consistently stand out in the industry: SEMrush and Ahrefs. These robust SEO tools have earned their places as indispensable resources for digital marketers, SEO professionals, and website owners. But which one should you choose for your SEO needs? In this article, we'll dive deep into the battle of SEMrush vs. Ahrefs, comparing their key features, strengths, weaknesses, and pricing to help you make an informed decision for your SEO strategy.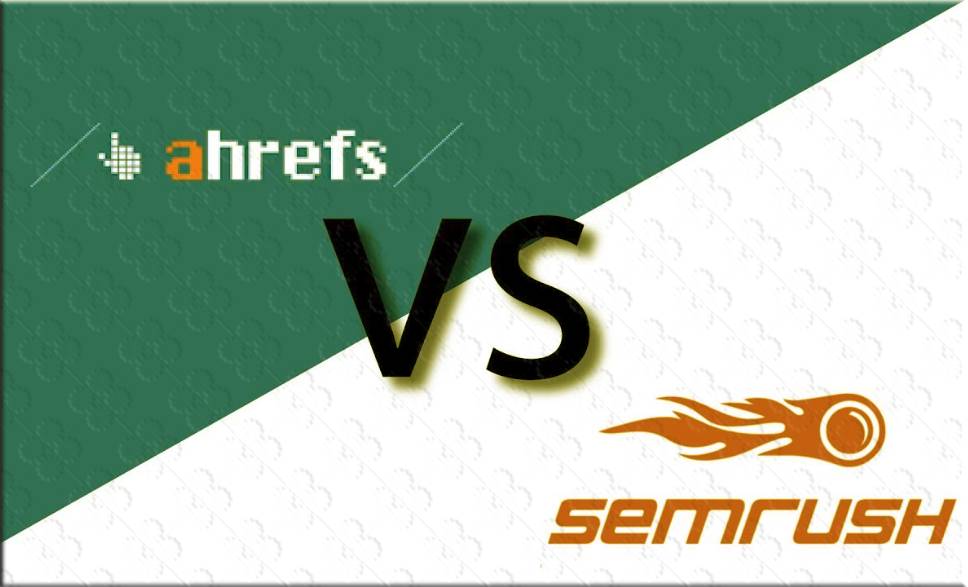 User Interface and Ease of Use
Both SEMrush and Ahrefs offer user-friendly interfaces, but they have distinct visual styles. SEMrush has a clean, straightforward layout that's easy for beginners to navigate. On the other hand, Ahrefs boasts a sleek and modern design, which some users might find more appealing. The choice here largely depends on personal preference.
Keyword Research
SEMrush and Ahrefs excel in keyword research, but they take slightly different approaches. SEMrush offers a Keyword Magic Tool, which is a comprehensive keyword research tool that helps you find valuable keywords, long-tail phrases, and questions related to your niche. Ahrefs, on the other hand, offers a robust Keyword Explorer tool with detailed keyword metrics and keyword difficulty scores. Both tools are excellent for uncovering new keyword opportunities.
Backlink Analysis
Ahrefs has long been revered for its backlink analysis capabilities. It provides in-depth data on the backlinks pointing to any website, including the referring domains, anchor text, and even the historical backlink data. SEMrush also offers a Backlink Analytics tool, but Ahrefs has the edge in terms of comprehensiveness and accuracy in this category.
Site Audit
For a comprehensive site audit, SEMrush and Ahrefs both have solid features. SEMrush's Site Audit tool provides detailed insights into your site's on-page and technical SEO, along with actionable recommendations for improvements. Ahrefs' Site Audit tool is equally effective, identifying issues like broken links, on-page SEO problems, and more. The choice here largely comes down to personal preferences or which tool's interface you find more intuitive.
Competitive Analysis
SEMrush and Ahrefs offer competitive analysis tools to help you spy on your competitors. SEMrush's Competitive Analysis tool allows you to see your competitors' organic search rankings, traffic, and even their ad strategies. Ahrefs, on the other hand, offers features like the Site Explorer and Content Gap tools, which can help you uncover content and backlink gaps between your site and competitors.
Content Research
Both tools offer content research features to help you discover popular topics and keywords in your industry. SEMrush's Topic Research tool provides a unique way to brainstorm content ideas and analyze trending topics. Ahrefs' Content Explorer, on the other hand, allows you to search for popular content by keyword or topic and provides detailed metrics on each piece of content.
Pricing
Pricing can be a significant factor in your decision-making process. SEMrush offers multiple subscription plans, with prices ranging from the more affordable "Pro" plan to the comprehensive "Business" plan, suitable for larger enterprises. Ahrefs also offers various plans, with pricing structured similarly. However, Ahrefs' starting plan is often seen as more expensive than SEMrush's, making SEMrush a more budget-friendly choice for beginners.
Ahrefs
---
SEO Dashboard
Site Explorer:
Keywords Explorer
SERP comparison
Competitive Analysis
Site Audit
Rank Tracker
SEMrush
---
Competitor analysis
Keyword research
Website audit
Backlink analysis
Advertising tools
Keyword Magic Tool
Position Tracking
Conclusion
In the battle of SEMrush vs. Ahrefs, both tools are exceptionally powerful and useful for different aspects of SEO. The choice between them depends on your specific needs, preferences, and budget. While Ahrefs is known for its backlink analysis, SEMrush is revered for its all-in-one SEO toolkit and competitive analysis features. It's a good idea to take advantage of their free trials to determine which one aligns better with your SEO strategy.
Ultimately, the best tool is the one that suits your unique requirements and helps you achieve your SEO goals. Whether you choose SEMrush or Ahrefs, you can be confident that you'll have a powerful ally in your SEO endeavors. Happy SEO optimizing!