Urban Freestyle Soccer game download for Windows PC. This is a sports game developed by Gusto games and released by Acclaim Entertainment in 2003. Download Urban Freestyle Soccer with a single click from the download link given below.
Urban Freestyle Soccer takes the sport back to its street roots with teams competing against their rivals for the right to be crowned Kings of the Streets. Build your own team and make them a force to be reckoned with ready to annihilate all-comers. Attitude and aggression are just as valuable as skill. Battle for ground for the duration of the match. No offsides and limited boundaries ensure flowing gameplay and fierce, frantic competitive matches.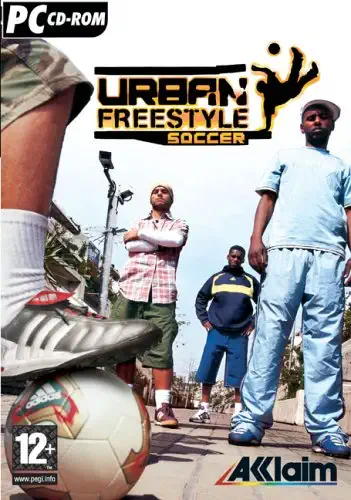 Features of Urban Freestyle Soccer
First-ever arcade-style 4-on-4 street soccer!
Ten different gangs each with home turf and theme music ready to take control of the concrete jungle by any means necessary.
Full-length music tracks for each gang include Sub-Urban, Queens of the Stone-age, Feeder, Method Man, Saliva, Oxide and Neutrino, Buju Banton, T.L.C, and Kid Frost.
40 players all with tricks, combo, and special moves.
Five hard-hitting game modes include Turf Wars, Home Turf, Versus Mode, Freestyle, and Street Challenge.
Over 100 tricks, moves, and combos including 16 super-charged "Netbuster" power-up tricks for record-breaking high scores and aggressive "Darkside" moves!
Dynamic multi-layered combo system to earn points for superior arcade sports gaming.
11 Visually stunning urban environments with moving objects and boundaries that can give an even stronger "home field advantage".
Features Adidas clothing and footwear
Technical Specifications:
| | |
| --- | --- |
| Title | Urban Freestyle Soccer Download |
| File Size | 638 MB |
| Requirements | Windows XP 7 8 10 |
| License | Free |
| Author | Acclaim Entertainment |
Urban Freestyle Soccer game download link: