JumpStart 1st grade PC Game Download with a single click. Download JumpStart First grade from the download link given below. This game was developed by Knowledge Adventure Inc. and released in the year 2000. You'll have a fun-filled first-grade interactive classroom full of engaging games and exercises. There are 18 activity modules that teach over 90 different educational skills. Multiple children in a family can use the software at the same time. Children can progress at their own pace thanks to the age-appropriate content-rich programs.
A classroom, cafeteria, and playground are just a few of the places where students can find 15 different interactive animations and games. A report card feature can be accessed by clicking on the teacher's desk. This provides a snapshot of each student's progress (activities played and percent correct). The various levels of difficulty and the activities' overall high level of interest are able to successfully hold the attention of most children. A level gauge in the corner of the screen allows children to adjust the difficulty level of the game. Milk caps (or Pogs) are used in a playground trivia-style game, and points can be redeemed for them.
To help children improve their reading and math skills, try the board game "Time" or "Frankie's Dog House," both of which require players to listen carefully for spoken clues that lead them to hidden answers in math and reading problems. Aside from some minor flaws, this is a very well-designed, useful set of activities that can serve as an excellent supplement to any 1st-grade curriculum.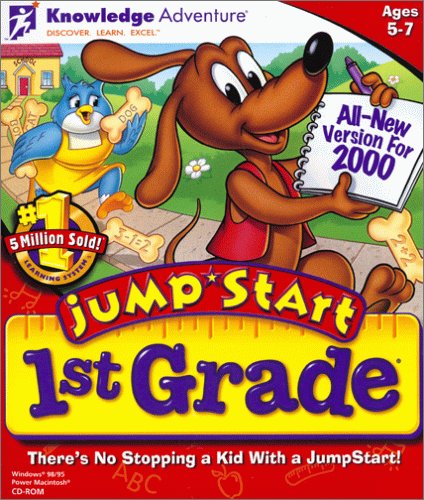 Features of JumpStart First Grade
Educational game
Nice graphics and animation
Enhances Kids knowledge
Improves learning skills
Lots of fun activities
Technical Specifications:
| | |
| --- | --- |
| Title | JumpStart 1st Grade PC Game Download |
| File Size | 615 MB |
| Requirements | Windows XP 7 8 10 11 |
| License | Free |
| Author | Knowledge Adventure |
JumpStart 1st grade PC Game Download link: