If you are a first-time Roku user and having a hard time setting up your device then you are in right place. In this post, we will guide you step by step on how to set up your Roku device.
Roku set up steps:
1. Connect your streaming player to an HDMI port on the back of your TV with the included cable. For 4K streaming, you'll need to use an HDMI port that supports HDCP 2.2.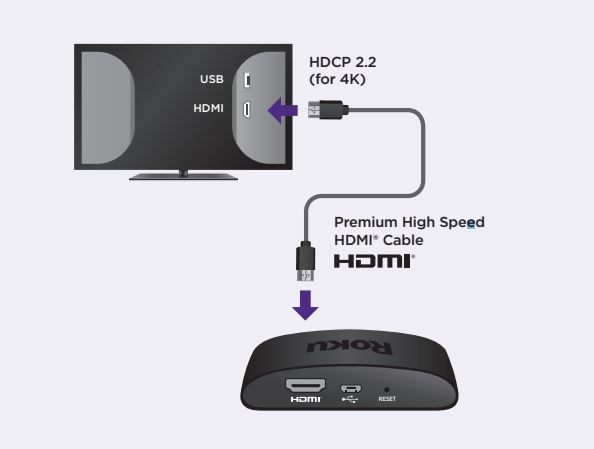 2. For the best streaming experience, use the included USB power cable and power adaptor to connect your streaming player to a wall outlet. Or use the included USB power cable to connect to the USB port on your TV.
3. Place your streaming player near your TV or attach it with the included removable adhesive strip.
4. Use your TV remote to power on your TV and select the input (source) you used to connect your streaming player.
5. Slide open the cover on the back of your remote and insert the included Duracell® batteries.
6. Follow the instructions on your TV screen. Activate your streaming player by using your computer or smartphone to link to a Roku account.
How to Activate Roku Device?
Once you have followed the hardware setup instructions provided above, you are ready to follow the on-screen setup and activation known as Guided Setup.
During Guided Setup, you will be prompted to enter an email address to begin the activation process. The email address you select will be associated with your Roku account, so be sure to pick an account you regularly have access to. Your Roku account stores which Roku streaming devices you own and which channels you have installed, as well as your preferences and settings. It's important to have a valid email address associated with your Roku account in order to manage your account and receive important account notifications. Similarly, you should choose a strong, secure password.
Keep your smartphone or computer handy, as you will need to access your email in order to verify your account. When you are ready to activate your Roku device:
Connect your Roku device to the internet.
When prompted, enter your email address:


If you already have a Roku account, log in using the email address associated with your account.
If you are creating a new Roku account, you will be required to add a payment method to set up Roku Pay.
Use your computer or smartphone to access your inbox and locate the email from Roku with the activation link. If you cannot locate the message, be sure to check your spam or junk folder.
Open the email from Roku and select the activation link.
From the Roku website, follow the instructions to create a free Roku account or log in to your existing account.
You must complete all steps on the website before returning to your Roku device. Once all steps have been completed on the website, you will see 'Setup complete!' Once you complete the activation process, any streaming channels you selected during the process will be downloaded and installed, and after a few moments, your Roku device will be ready to use. You may remove or update channels at any time after the activation process has been completed.